Voted "Best Letting Agent" St Neots 2021/2022
The impact a poor agent can have on your asset / investment is considerable. We understand fully the important of ensuring every aspect of your rental property is protected at all times.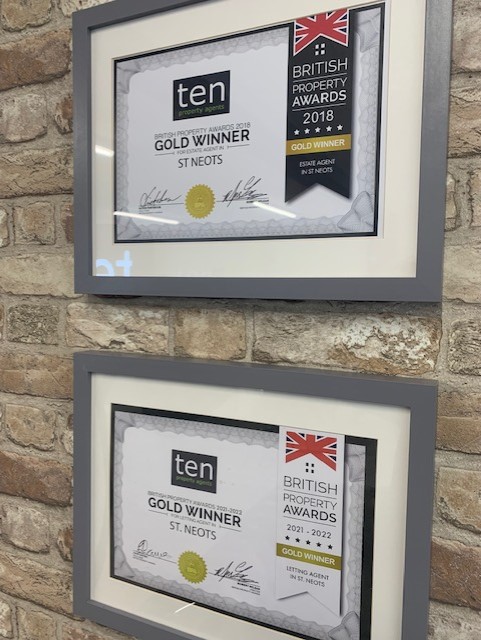 Many landlords have transferred their properties to Ten, based on our honest and trustworthy advice, attitude towards quality and the fact that as business owners, we take complete control over every aspect of the marketing and tenancy.
ARLA Qualified business owners who share their experience and understand the importance of managing your rental portfolio properly, reducing risk and cost where possible.
We ensure all our landlords receive:
·         Outstanding service with HONEST & TRUSTWORTHY advice at all times.
·         Personal management of your property by a QUALIFIED BUSINESS OWNER.
·         PROFESSIONAL PHOTOGRAPHY & bespoke marketing for all properties - COMPARE OUR PHOTOS TO OTHER AGENTS ON RIGHTMOVE
·         Full descriptions and FLOOR PLANS - unlike many other larger agents, WE VALUE YOUR BUSINESS MORE.
·         Professional DETAILED CONDITION INVENTORIES to fully PROTECT YOUR ASSET.
·         QUARTERLEY INSPECTIONS completed by a business owner, ensuring your property is well kept and maintained.
·         QUALIFIED members of ARLA (association residential letting agents)
·         We ensure you REMAIN COMPLIANT TO CURRENT LEGISLATION at all times.
·      Provide updates on CHANGED TO LANDLORD TAXATION AND REGULATIONS.
·         WORK CLOSELY WITH ALL TENANTS to ensure properties are properly looked after.
·         Transparent and FAIR FEE STRUCTURES with no hidden surprises.
Call 01480 274310 for an informal discussion and to ask as many questions as you wish. 
---
Fully Managed Service
Our fully managed service includes the following key benefits at very competitive fees, ensuring your have the best net return on your rent.
·         Professional marketing – the only agent to ensure every property has professional photography to ensure your property looks great on Rightmove, Zoopla and our own website.
·         Accompanied viewings by a business owner – vital to have an experienced business owner on all viewings to understand tenants needs and background.
·         Tenant referencing & selection - always ensuring we provide you with the right tenant, based on our interview, referencing process and recommendation.
·         Professional independent inventory - protect your properly with our detailed report, images of every aspect of the property and meter readings before tenant move in.
·         Regular property visits – ten ensure 3 monthly property inspections take place to report any concerns on condition, so that we act fast to limit any risk.
·         Online landlord access - via pc, mobile or tablet, showing live updates, tenancy details and landlord statements.
·         24 -7 emergency assistance – providing landlords and tenant's peace of mind at all time.
·         Landlord advice - demonstrate what strategies can help improve your rent returns and minimise your tax liability.
·         Regulated by The Property Ombudsman - we strictly abide by their Codes of Practice, meaning you are in safe hands at all times.
·         Client money protection approved – offering landlords and tenants greater protection through our Propertymark scheme.
·         Control of regulatory requirements - including Landlord Gas Safety checks.
·         Detailed check in / out - in line with agreed inventory.
·         Deposit protection scheme (DPS) - lodge all deposits free of charge for peace of mind to landlords and tenants.
·         Trusted tradesmen – carefully selected local tradesmen offering value and quality workmanship.
·         Council Tax & Utility Management – for outbound and inbound tenants we ensure all utility providers are updated with current meter readings.
---
Tenant Find Only
If you wish to manage the ongoing tenancy, legal and compliance obligations yourself and simply need our assistance in marketing the property to find a suitable tenant, we are always keen to support you.
Rather than offer a "one fits all" approach, simply talk to us regarding what you need and we will work with you to create a plan that fits.
We will always extend our service to include professional advice and guidance, whichever option you choose.


Important Aspects When Choosing Your Agent
As a landlord, one of the most important decisions you must make, is choosing the right company to manage your property asset.
There are many factors that should be taken into consideration including:
·         Are they regulated by a recognised redress scheme such as The Property Ombudsmen
·         Do they have the experience and qualifications to ensure your are protected. ARLA qualified being the highest industry standard.
·         Who will actually manage your property? A team of individuals or a qualified business owner.
·         How are properties marketed? Check Rightmove and see yourself the standard of photographs and descriptions and ask if they really make an effort.
·         What are there "genuine" customer service ratings. Google is the most transparent review system available, which cannot be "adapted" to create a false score.
·         Can they provide references from their landlords?
·         Are they suitably insured for Professional Indemnity.
·         Do they protect client money with an approved Client Money Protection insurance and members of an approved Deposit Protection Scheme.
·         Are they able to manage taxation for non-resident landlords.
·         Do they protect you on each tenancy through issuing of legal "how to rent publication" and right to rent checks and controls.
Ten Property Agents ensure all of the above, to provide landlords with absolute assurance of quality at all times.
Is Your Property Compliant?
Your property must comply with current legislation, which if neglected, becomes both time consuming and stressful for landlords and tenants, not to mention remains the legal duty of a landlord.
We will ensure that you and your property comply with all current legislative requirements including:
·         Energy act 2011 - the energy performance of buildings.
·         Gas appliance safety - annual checks and servicing of heating / boilers.
·         Electrical Safety Certificates.
·         Furniture and furnishings fire safety.
·         Legionella bacteria in water systems screening and risk assessment.